Grapes & Olives on Tap - Naturally Infused Balsamic Vinegars and Olive Oils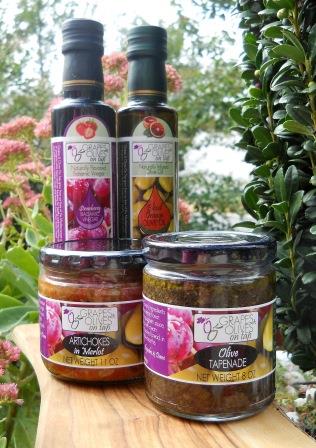 Booth: 915
PO Box 1251

It's a fun, interactive tasting bar experience! Grapes & Olives on tap specializes in Naturally Infused Balsamic Vinegars and Extra Virgin Olive Oils. Our high quality, imported Olive Oils and perfectly oak-aged, Italian Balsamic Vinegars are infused with herbs, citrus, berries, chocolate, mushrooms and fruits. A visit to our Tasting Bar offers you delicious tastes of always fresh, no preservatives, healthy Extra Virgin Olive Oils. And since it's made from beautiful Italian grapes, Balsamic Vinegar has the same healthy attributes as red wine! Balsamics are a great way to add lots of flavor to any food in a low-calorie, healthy way! You'll also find great ideas for simple cooking of quick meals using the intense flavor of these naturally delicious products. Grapes & Olives on tap Olive Oils and Balsamic Vinegars are a wonderful gift for yourself and make beautiful gifts for others.

Visit our Tasting Bar for some "sips and tips" on tastier meals for healthier lives.

Pour.Savor.Enjoy!

Show Special: Booth 915 Buy 4 bottles or more and get $1off per bottle!