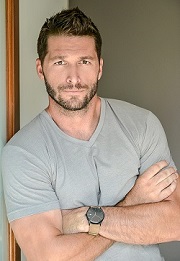 Brett Tutor from TLC's Trading Spaces
Brett is the new carpenter for TLC's hit show Trading Spaces. He can previously be seen on Discovery Channel's hit show Treasure Quest (season 2) where he is the security & survival specialist for an elite team of treasure hunters on the trail of the Treasure of the Trinity.
He got his start in the entertainment business as a stuntman. Brett has done stunt work in feature films, TV shows, TV commercials and print adds. From 2013-2015 Brett hosted the TV Show New Home Source where he would travel the country educating viewers on new building methods and materials, energy efficiency and the future of home building.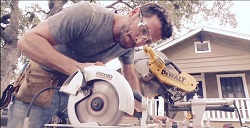 In 2014, Brett founded the nonprofit Off The Grid International. OTGi builds clean water and sanitation systems in some of the most remote regions on the planet and also raises awareness for other nonprofits, mission oriented businesses and individuals who are doing amazing and sustainable work in humanitarian aid and environmental relief.
Brett is also a songwriter and guitarist and plays in a band in Austin, Texas with his brother Chase. "The Tutor Brothers" music can be found on iTunes and the music video "Fire Fly" is on their website.
Jim Dunaway and Landrum Roberts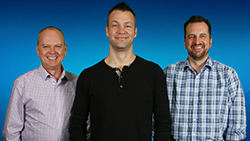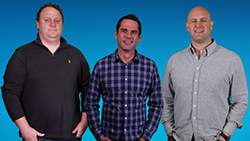 Stop by to see Jim Dunaway and Landrum Roberts while they live at the BJCC all weekend long. You can also enter for your chance to win the Ultimate Entertainment Package, valued at over $7,000 and includes two season tickets to Auburn Football and great prizes from Sian Appliances, Alabama Kitchen & Bath, iCustom Cabinetry, and Royal Bedding. Click HERE for more details.

Landrum Roberts will be living in a tiny house courtesy of AL Tiny Homes. His appearance is brought to you by Hometown Lenders.

Also, join us as Three Man Front broadcasts live from the show on Friday, February 15th from 11 am - 2 pm and Leland Live from 3 pm - 7 pm!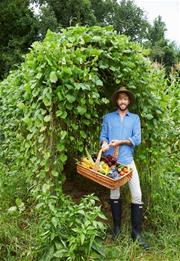 Trace Barnett from The Bitter Socialite
Learn How to Live Off the Land With Trace Barnett. A natural-born entertainer, creator, decorator, gardener and jack-of-all-trades, Trace Barnett always knew he would pursue a career with a creative outlet. After years of working with various design groups, national lifestyle publications and appearing on Food Network Star, Trace launched The Bitter Socialite, an entertaining and lifestyle design firm that is anything but stuck-up or stuffy. His book Tracing Roots focuses on taking a modern approach to living off the land. Trace appears at the show on Saturday on the Fresh Ideas Stage and will be signing books after his presentation.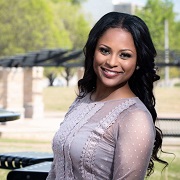 LIVING LUXURIOUSLY FOR LESS WITH MELANIE TURNER
Living on a budget started as a necessity for Melanie Turner. As a newlywed, Melanie desired the finer things in life but wasn't willing to go into debt to have them. Turner's eye for stylish, expensive-looking décor paired with her commitment to saving money led to her creating the YouTube channel, "Living Luxuriously for Less." There she shared tips on living reasonably and on a budget through DIYs, interior decorating tips, and how to's. Five years later, the channel has more than 100,000 subscribers and is endorsed by the shopping app and website Retail Me Not. Creating videos for YouTube also uncovered her niche for planning both intimate and large scale events.
Thus she and her husband launched Luxe Studio—an intimate event venue for luxurious events and a full scale event planning firm that specializes in celebrating those monumental moments in life!
Melanie will be joining us on the Fresh Ideas stage Friday and Saturday to share her top secrets for shopping, dining, celebrating, decorating, traveling and enjoying everyday life for less.